Be beautiful. be you,
naturally.
naturally.
Premium Virgin Hair Extensions created exclusively for natural textures.
Shop now
The perfect match.

Our signature textures are created to blend flawlessly with the natural curls, coils, and kinks you were born with.

Perfect extensions kit.

Our texture-tailored maintenance kits are specially formulated to meet the needs of hair extensions wearers everywhere.
Blended & obsessed
3,000
3,000+ reviews from real women just like you!
I cannot stop purchasing HFH products!

"This hair is such good quality and blends PERFECTLY. I love the versatility of these, and people are always genuinely surprised when they find out I wearing clip ins. I now have these and a drawstring ponytail, and am getting a u-part wig next. Worth every penny!"

nicole p,

Heat Free Hair Customer

As always, a beautiful and quality product

"love my new for kurls goddess u-part wig! Looks just as amazing if not better in person. This is the fourth or fifth time i've gotten products from them. I also want to compliment the professionalism of the customer service team at this company...Thank you heat free hair! Continue to rise as a cut above the rest and "make it a great day"!

shalah,

Heat Free Hair Customer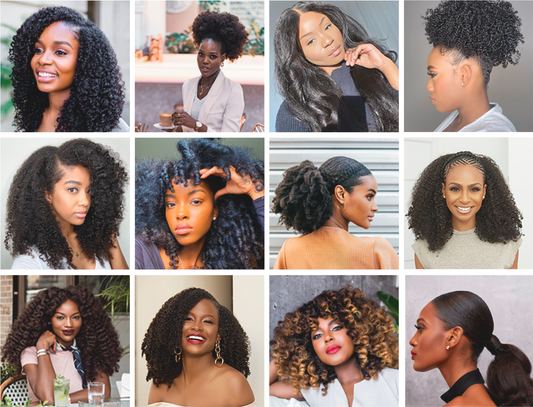 Find your perfect match with
true you
Our signature tool helps you find the Heat Free Hair texture and product specifically designed with you in mind.
Take our 3-Minute Quiz
Natural Hair Extensions with 100% Raw, Virgin Human Hair
For thousands of years, Black women have used a range of protective hair styles to protect their beautiful natural hair. Natural, afro-textured hair though wasn´t celebrated until the natural hair movement began growing about ten years ago. Now we've once again learned to embrace our beautiful texture, whether it´s kinky, coily or curly. Read More
At Heat Free Hair, we produce 100% raw, virgin hair for natural textures and premium haircare products designed exclusively for hair extensions. This allows you to create all the hair styles you could dream of and transition to protective styles to embrace your beautiful natural hair. Our extensions for African American hair were created for natural textures like yours and are designed to blend perfectly with your natural hair. They're also made from high-quality human hair to ensure durability. At Heat Free Hair, we can guarantee that you´ll easily find extensions that perfectly match your natural texture and blend flawless with your gorgeous curls.
Top-Quality Natural Curly Hair Extensions
For Black women with natural hair, extensions that blend with your hair texture can be difficult to find. A lot of people choose to try to tame their hair with styles that require heat or chemical processing, which is damaging. But at Heat Free Hair, we believe that you can transition using protective styles that don´t require heat or chemical processing and still feel 100% natural and beautiful. Our natural extensions for African American hair are designed to perfectly match your texture and styling needs. They blend perfectly with all curls, kinks and coils and come in a variety of different textures, from 3B to 4C. No matter your preferred type of extension, we have a product for you here. Our extensions can be:
Plus, we also have an extensive collection of natural wigs from u part curly wigs to headband wigs, and much more. Best of all, they're all made from 100% real and virgin human hair. This means they're great quality, long-lasting and durable, and most importantly, they look natural. No one will be able to tell you're wearing extensions.
Care for Your African American Hair Extension
Hair extensions need special care, designed specifically for extensions. This is because while our natural hair extensions are 100% raw, virgin hair, they require unique, lightweight formulation since they do not get the same nutrients that your own hair gets from your scalp. To ensure your afro extensions look good and last a long time, you need to care for them properly, using products specifically meant for extensions and not the same products you'd use on your natural hair. We have just that in our shop, making it easy for you to keep your extensions looking gorgeous and save money by not having to replace them quite as often. This includes our high definition curlbrush and the Perfect Extensions kits for all hair textures. This hair extension care kit includes shampoo, conditioner, curl and coil definer and leave-in spray.
Natural Hair Extensions for Everyone
Our natural curly hair extensions are designed for women of all textured hair to look and feel beautiful.
Over the past decade, more than 300,000 women all over the world have loved and trusted our products. Together, we've celebrated their life moments and milestones throughout their natural hair journeys.
Discover our range of extensions and other products and order online from our website. Read Less
In the press
"
"Heat Free Hair made a stamp on the natural hair community and took control over the weave industry."
"
"The #1 company for 100% virgin hair extensions for women with curly or multi-textured hair."
"
"A movement inspiring women to embrace their natural hair textures and the power of protective styling."
"
"Challenging the status quo...from what beauty looks like to how it's packaged and delivered."