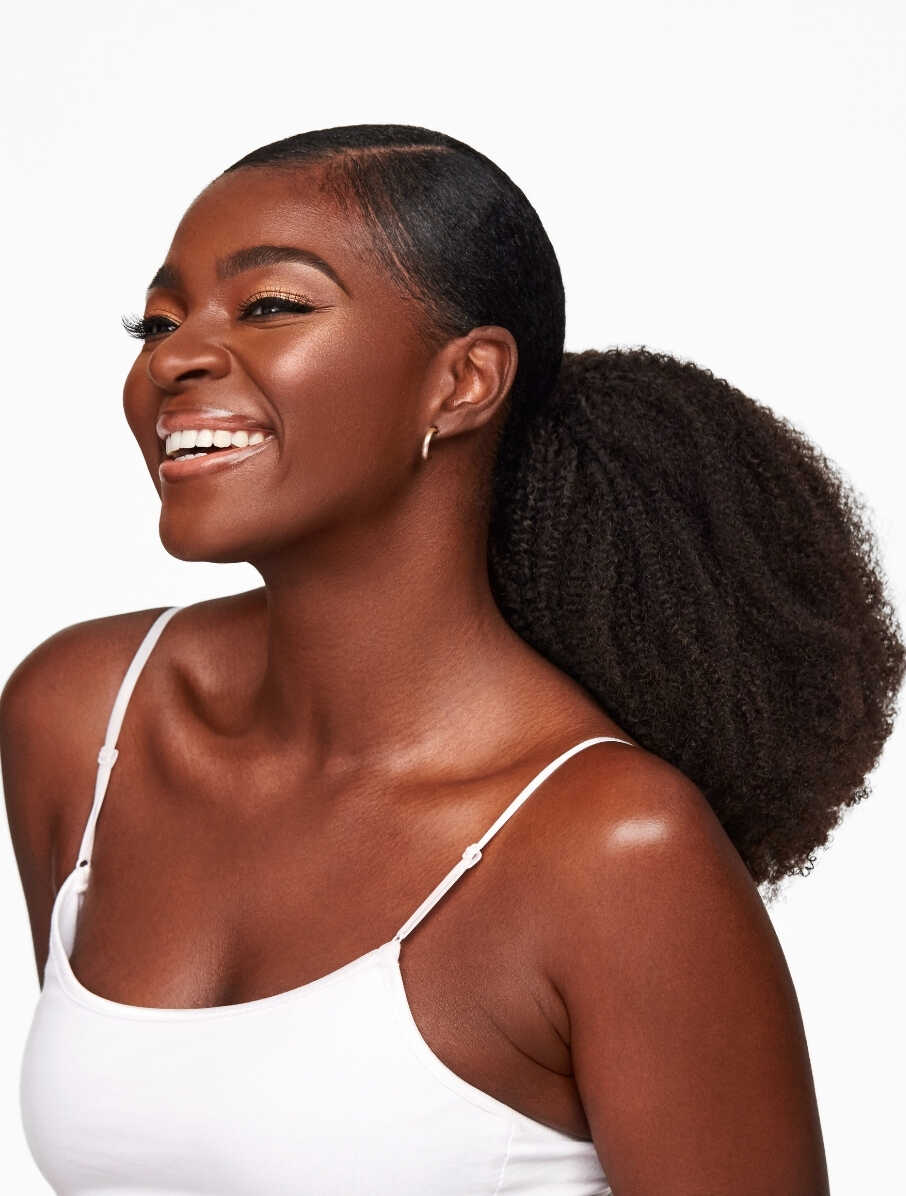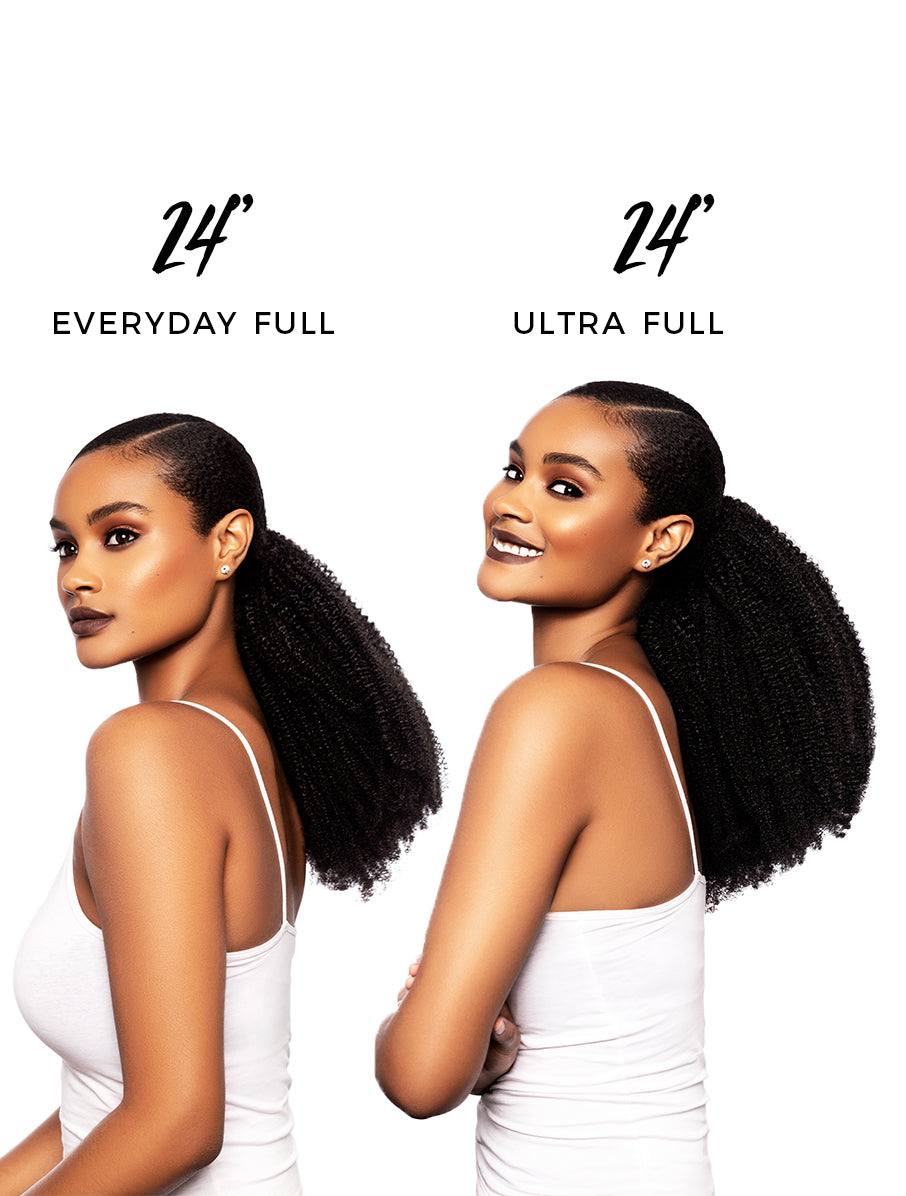 "For Kinks" Drawstring Ponytail
$ 279
Overview
Shipping & returns
Overview

Elevate your look with our *new* 100% virgin ponytail extension for 4B-4C natural hair.

Our easy-to-attach drawstring ponytail give you more versatility and styling options for your everyday natural look or your "nights and weekends" textured style.

Heat Free Hair's signature "For Kinks" texture makes the perfect extension match for fine, yet coarse strands that are densely packed together in a z-pattern with a subtly low luster. Experience a look true to you, beautifully made to blend with your 4B-4C natural hair. Customize your afro ponytail to suit you by choosing your desired length and fullness level.

Level 1 (12") - Puff Length Ponytail 
Level 2 (18") - Shoulder Length Ponytail 
Level 3 (24") - Long Goddess Length Ponytail 


All length levels come in "Everyday Full," the fullness of all signature Heat Free Hair textures pulled together into a chic kinky ponytail, and "Ultra Full," the fullness taken up a notch with added drama, volume and body.

Our extensions are unprocessed and will arrive in their natural, unaltered color which ranges from a medium to dark brown.

All extensions are measured in their fully straight state. Your extensions will measure 6" shorter than the listed length when in its kinky/curly state; a 18" ponytail will actually measure 12" when kinky/curly.  Read More

Styled with our Perfect Extensions Kit for Kinky/Curly Textures! 

Shipping & returns

Orders will ship the same business day if placed Monday- Friday before 11 AM EST, excluding holidays and sale periods. We work with trusted shipping carriers, but recommend purchasing Route Package Protection to insure your package, as Heat Free Hair not responsible for lost, stolen, or damaged packages. All orders with hair extensions require a signature for delivery.


Heat Free Hair is pleased to offer returns for store credit within 14 days of delivery, as long as your order remains in its original condition. To be eligible for a return, products may not be untied, washed, installed, chemically processed, excessively brushed/finger-combed, or tampered with in any way. We do not offer cash refunds. All wigs are final sale.

If you need assistance with a purchase, send an email to customercare@heatfreehair.com or give us a call at 1-877-686-9044. We are happy to assist you!
Kinky Ponytail Extensions for Textured Hair
It's not always easy to find hair extensions that work with kinky hair. As with any natural texture, finding the highest quality for the perfect texture match is the hardest part because there are so many poor quality hair extensions on the market. But no matter the texture of your natural hair, you deserve to wear extensions that allow you to experiment with a variety of styles. And if you're looking for a kinky ponytail extension for natural hair, we've got you covered at Heat Free Hair. As pioneers of the 100% raw virgin hair extensions, we offer the highest quality and an inclusive range of extensions for textured hair. And we have a wide variety of ponytail extensions for all natural textures.
Find Your Perfect Kinky Curly Drawstring Ponytail
A good drawstring ponytail is one that fits your hair so perfectly it blends in unnoticeably and no one can tell it's not your real hair. That's not always easy to achieve, especially if you have naturally textured hair. But our kinky and curly drawstring ponytail will flawlessly blend with your natural hair.
We have clip in hair extensions to match just about any natural hair texture from 3B to 4C. We have ponytail hair extensions for curly, kinky, coily textures, as well as in blow-outs styles. You'll achieve always achieve a flawless blend with Heat Free Hair extensions.
You can also customize these extensions however you want to get exactly the natural hair drawstring ponytail you're looking for. Choose your length with three different options available: 12", 18" and 24". Then pick the fullness you want. We recommend the everyday fullness for more subtle everyday looks and the ultra full for events, nights out and other occasions when you want your hair to have a little more drama and volume.
Ethically Sourced Afro Puff Drawstring Ponytails
Another important aspect of finding a kinky hair ponytail that looks natural is to make sure it's made from real, uncompromised human hair. We can guarantee that you'll always get premium, ethically sourced human hair extensions. And not just any human hair, but 100% real virgin human hair to ensure you get the highest quality extensions. This means we set and have been upholding the highest standards in natural hair extensions in the market for the past decade. These standards are set across the entire manufacturing process of your afro ponytail hair extensions from ethically sourcing to manufacturing and everything in between the supply chain.
We know most companies don't source their human hair drawstring ponytails with such high ethical standards, and you might be cautious to try products that use real human hair. Rest assured, that our reputation precedes us and the thousands of reviews from women all over the world will attest to our hair being ethically sourced and manufactured, as well as of course textured-tailored to match your hair perfectly. We will always be completely transparent about our process with you and you can find more information on our site.
The Best Kinky Curly Ponytail with Human Hair
The "For Kinks" ponytail is the perfect extension for those with 4B-4C natural hair. Choose your length and fullness, and don't forget to pick up some hair extension care products to ensure the longevity and appearance of your ponytail. Order our drawstring kinky curly ponytail from our online shop today. Read Less